We invest in efforts to encourage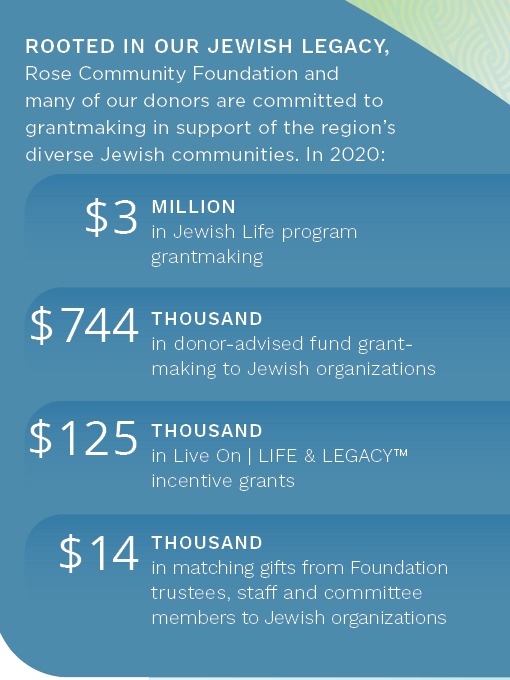 a dynamic and inclusive Jewish ecosystem that embraces a myriad of ways to be Jewish and builds enduring community infrastructure to sustain it. We support Jewish efforts seeking to advance social justice by engaging Jewish people and using Jewish values and traditions to respond to key social and economic issues of our time. Read more about the Jewish Life strategy.
Fund for Jewish Nonprofit Resiliency
In Fall 2020, the Foundation established the Fund for Jewish Nonprofit Resiliency, to support local Jewish nonprofits in adapting and responding to the impacts of COVID-19. 100% of contributions will fund grantmaking to bolster Jewish organizations' financial health and will also support needs identified by the organizations themselves, including technical assistance grants, cohort-based learning, marketing support, and diversity, equity and inclusion training.
Give to the Fund for Jewish Nonprofit Resiliency
Programs and Initiatives
We have helped to create and nurture partnerships and coalitions that are important to building a vibrant Jewish community, including:
Learn more
To schedule a meeting with Vanessa Bernier, Program Officer for Jewish Life, please use this appointment link.