Kentucky Reproductive Freedom Fund

The Kentucky Reproductive Freedom Fund is dedicated to maintaining and improving access to contraception and abortion by supporting litigation, policy reform, education for future advocates, and the expansion of access to reproductive care. The goal of KYRFF is to shift the landscape in Kentucky and nationally to ensure that access to safe, dignified, medically accurate, comprehensive reproductive care is protected.
All contributions received by the fund go towards protecting reproductive freedoms. Help KYRFF ensure that every person has options to control their own body and decide their future without political interference.
To give via check, please mail to:
Rose Community Foundation
4500 Cherry Creek Drive South, Suite 900
Denver, CO 80246
Include "Kentucky Reproductive Freedom Fund" in the memo line
Wire transfer and stock transfer instructions can be found here.
Our Story
KYRFF was founded and is directed by Ona and Dr. Ernest Marshall, who are also the founders of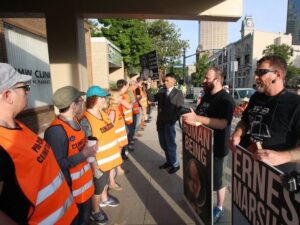 EMW Women's Surgical Center, where, for over four decades, board certified Ob-Gyn physicians have provided comprehensive services – including abortions, contraceptives and family planning – and helped train medical residents and out of state physicians in reproductive health care. EMW also fights in the courts, acting as plaintiffs in all the cases challenging restrictive laws passed in the Kentucky state legislature. In several cases, EMW is involved in ongoing litigation, including a case challenging the trigger ban at the Kentucky Supreme Court.
Every day, the EMW staff are faced with threats from anti-abortion protesters that trespass, stalk, threaten, physically block and assault patients, companions and volunteers. Despite these circumstances, EMW has continued to stand for people's reproductive rights and provide compassionate, non-judgmental care.
The Fight Post Roe v. Wade
Without federal protections, ensuring reproductive rights in Kentucky and nationally is fully in the hands of the states. As a direct result, many women must flee their own state to access legal abortion care. In health care settings, state restrictions are creating risks and confusion as physicians are forced to consider legal implications before intervening in dire circumstances. These laws are also interfering beyond abortions, limiting access to birth control and prenatal, maternal and birthing care in Kentucky and other states.
Our Partners
KYRFF partners include ACLU National, ACLU of Kentucky, Louisville Clinic Escorts, Kentucky Health Justice Network, National Abortion Federation, Feminist Majority Foundation, National Institute of Reproductive Health, Women to the Front, Abortion Care Network, Religious Coalition for Reproductive Choice, Catholics for Choice, and National Council of Jewish Women.
These organizations tackle challenges in many ways, including escorting people as they enter the clinic, fighting anti-abortion laws in court, subsidizing medical, hotel and transportation costs, providing legal assistance, and engaging in ongoing advocacy work.
ACLU Faces of Liberty: Dr. Ernest Marshall
Other Ways to Give
If you have a donor-advised fund at Rose Community Foundation and would like to make a grant to the Kentucky Reproductive Freedom Fund, please contact our Philanthropic Services team with details of your grant request.