Rose Women's Organization (RWO) traces its lineage to Rose Auxiliary at Rose Medical Center. From its roots as a service-based group for women, RWO has evolved into an organization that awards grants to improve the health, education and welfare of women, children and families in the Greater Denver community.
Several sources of income support our grantmaking activities:
Income from the gift shop at Rose Medical Center, which RWO oversees
Funds raised by our advisory board through events and board member contributions along with donor contributions
Earnings from funds that reside at Rose Community Foundation
Rose Community Foundation provides philanthropic advisory services and administrative support to RWO, manages all of RWO's investment assets and files all relevant tax documents on behalf of the organization. RWO operates under the 501(c)3 charitable tax status of Rose Community Foundation, and all of RWO's financial assets are part of Rose Community Foundation's assets.
Grantmaking
Rose Women's Organization awards grants to improve the health, education and welfare of women, children and families. The group learns and grows together through a process of researching, evaluating and ultimately making grants to nonprofit organizations. Grants are made annually. Funding opportunities are by invitation only.
During the 2019-2020 grantmaking cycle, Rose Women's Organization granted $40,000 to institutions and/or organizations that promote sexual health and wellness, focusing specifically on preventing unintended teenage pregnancy in underserved populations, including but not limited to: communities of color, immigrant communities, low-income communities, people with physical or intellectual disabilities, and people who have experienced sexual victimization.
The nonprofits awarded were Florence Crittenton, Girl's Inc. and Somos. RWO also made a grant to Rose Community Foundation's R.E.S.P.O.N.D. Fund.
Leadership
2019 Rose Women's Organization Board Members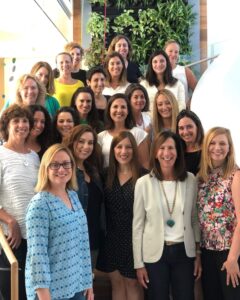 President: Erin Autrey
President Elect: Erica Farber
Lindsey Baltimore
Laura Brenner
Amy Chapman
Amy Engelman
Loren Faye
Felicia Greher
Courtney Intara
Rebecca Kanov
Carla Kutnick
Susan Levy
Alicia Rosenfield
Clare Rothchild
Kareen Shapiro
Tara Shofnos
Nancy Steele
Michelle Striker
Samantha Thompson
Devin Tomiak
Jamie Winter
Laura Wolf
Karen Woolf
Donations
You may visit Rose Community Foundation's online donation page to make a secure donation to Rose Women's Organization. (In the "Please direct my gift to" field, choose Rose Women's Organization).