For almost seven years I've been one of the many staff who are not Jewish working at a foundation that has been inspired by Jewish values since its inception. Rose Community Foundation was created from the proceeds of the sale of a Jewish hospital, and we continue to make grants in Jewish Life, in addition to our other grantmaking, including the Education portfolio that I oversee. From a practical standpoint, those founding Jewish values—non-discrimination, a commitment to social justice, and a belief that we have an obligation to strengthen our community—have been less about what we said and more about what we did each day. They were and are easy to get behind and even easier to practice in the art of grantmaking.
But for the last couple of years, I have wanted to understand those values more deeply and to travel to a place that I know has profound cultural, religious and personal significance to many in my office and in the greater Denver Jewish community. Our colleagues in grantmaking, the Charles and Lynn Schusterman Family Foundation, were able to make this a reality. In August of 2018, I—along with 50 other amazing Latina/o leaders from across the globe—came to Israel to explore our leadership as we traveled and learned the complicated and amazing story of Israel.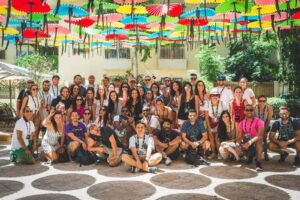 During our ten days I thought long and hard about two big questions—what does it mean to repair the world? And, what does it mean to bear witness to holiness—even if it isn't part of your set of beliefs or truths?
Across Tel Aviv, I saw and experienced a culture of innovation that has inspired me to think carefully about we want in our learners' K-12 public education experience. Living a life, as one storyteller shared with us, in the "shadow of catastrophes" has pushed people there to become risk takers in service of a greater good. Recognizing the great number of Israeli start-ups that has shaped everything from water conservation to personal technology, I think that the grit, perseverance and innovation being nurtured in Israel are things we should aim to create in all US learners.
In Jerusalem, a place that three of the world's largest religions consider to be one of the most sacred places on earth, I was challenged to think about my own beliefs about the Israel and Palestinian conflict. I had read a number of books, talked to a lot of people and kept up with those conflicts via the media for many years. What was I supposed to believe about one of the world's most intractable conflicts between two nation states? Again, my work passion in education offered me a window into opportunity. During our time in the Old City of Jerusalem we were invited to hear a presentation on Middle East Entrepreneurs of Tomorrow (MEET)—an organization designed to bring together young Israeli and Palestinian youth to create positive change through technology and entrepreneurship and, even more importantly, to make positive social and political impact in the Middle East. These young people have stayed in my mind, the key being their ability to determine for themselves what should happen within their countries, not those on the outside looking in.
Finally, to visit the Western Wall, the Church of the Holy Sepulchre or to first see the Dome of the Rock as you look out from Mount Scopus, is to gain understanding of the power of faith in our world and respect for differences of those faith sets. I was reminded as I walked throughout the Old City of Jerusalem, purchasing gifts from the Muslim, Christian and Jewish sections of the quarter, that for the last two years some of the most powerful grants we have made through Rose Community Foundation's Community Action Fund have worked to create coalitions across difference. Those coalitions lift communities up and mirror the power of possibility that I witnessed in Jerusalem as a city where truth across differences and beliefs exists.
I have returned from Israel with a lot on my mind about my place in the world and many more unanswered questions. But one of the most powerful takeaways, among the many, was the reminder to show gratitude for those around you and the experiences given. While travelling with some of the most amazing leaders across the globe, we started and ended each day with gratitude for the opportunity and for each other. As we head into Thanksgiving, I am reminded to share my gratitude for the time in Israel and more importantly to the communities, leaders and educators who make my work possible. The challenges in Israel or here in the US are hard, and the solutions are not easy or simple. I give thanks for the opportunity to continue to grow and work on these problems with respect and gratitude for others and with a continued commitment that – like our Jewish value of Tikkun Olam, which is defined by acts of kindness performed to perfect or repair the world—we have a responsibility to keep working on opportunities to improve the community around us.