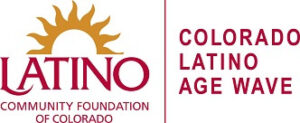 Colorado Latino Age Wave is an initiative of the Latino Community Foundation of Colorado, that supports the well-being of a rapidly growing Latino older adult population in Metro Denver through innovative services and programs.
Launched in October 2011, this initiative was developed in response to national research by Hispanics in Philanthropy that projected a "wave" of Latinos entering la tercera edad (third stage of life), with numbers expected to rise by 224 percent by 2030. This research also identified a unique set of needs and challenges for this growing population. Through a partnership between Rose Community Foundation, Hispanics in Philanthropy and the Latino Community Foundation of Colorado, Metro Denver was selected as the inaugural community in which to begin the initiative.
For more information about Latino Age Wave Colorado, visit latinocfc.org.