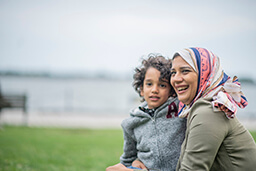 The Refugee Integration Fund supports programs and initiatives that are addressing priority needs for newly arrived Afghans and other Office of Refugee Resettlement (ORR)-eligible populations residing in Colorado.
Over 3,000 Afghan evacuees have arrived in Colorado since August 2021. Other ORR-eligible arrivals were also at record highs in 2022. The state of Colorado has received federal funding to support Afghans and other ORR-eligible populations as they move from the resettlement phase to becoming established members of the community.
This grant opportunity is now closed. All grant applicants will be notified in March 2023.
Grant priorities
Refugee mental health. Addressing the mental health needs of Afghans and other ORR-eligible populations, including help overcoming stigmas associated with seeking mental health care and creating opportunities for social engagement.
Legal services. Expanding immigration legal services to support Afghan evacuees as they navigate available pathways for permanency in the U.S.
Support to schools. Supporting enhancements for school districts to promote academic performance and successful school integration of Afghan children, youth and families. Note: funding support to schools will be awarded through a non-competitive process.
About the Fund
The Refugee Integration Fund is overseen by the Colorado Refugee Services Program (CRSP), a unit within the Colorado Department of Human Services (CDHS). CRSP provides leadership, networking, monitoring, and systems navigation on behalf of refugees and the agencies that assist them. In partnership with the Office of Refugee Resettlement, other CDHS divisions, and counties in which refugees resettle, CRSP coordinates an array of services aimed at promoting refugee self-sufficiency and integration.