Denver, CO – With the countdown to Colorado's mid-October mailing of ballots upon us, voter participation is top of mind. As part of its strategy to advance inclusion and engagement, Rose Community Foundation has awarded $338,500 in support of 15 organizations working to advance nonpartisan voter participation, turnout and education ahead of the 2022 Colorado general election. The grants prioritize initiatives that are engaging historically disenfranchised populations and promoting inclusive civic engagement.
"Voting gives all citizens a voice in the systems of governance that affect their daily lives," says Rose Community Foundation President and CEO Lindy Eichenbaum Lent. "Thanks to statewide mail-in voting options, Colorado is a national leader in making voting more accessible and equitable for all. To fully leverage that accessibility, we are grateful for the opportunity to support several local organizations working to expand voter participation in a nonpartisan manner and help ensure all community voices are well-represented on Election Day."
Through this grant cycle, Rose Community Foundation aimed to support projects and programs that are working to mitigate historical access and participation imbalances through voter registration drives and education campaigns around how and where to vote. Many of the grantee organizations work closely with populations who have traditionally faced barriers to voting including New Americans, voters of color, young adults and LGBTQ+ individuals. Some organizations, including Community Resource Center and Colorado Civic Engagement Roundtable work directly with nonprofits to help them conduct outreach to their clients, helping to engage individuals who can be difficult to reach through traditional voter organizing efforts.
"Community Resource Center is currently supporting over 30 nonprofit organizations in offering nonpartisan voter engagement to their constituents, and collectively our program has engaged nearly 2,000 individuals in meaningful conversations about the upcoming election," says Alex McHenry, director of civic engagement at Community Resource Center. "Support from Rose Community Foundation has been instrumental in building this year's program and providing the necessary training, resources and support to our nonprofit partners."
Information about all the grant recipients and their work is outlined below.
Asian Pacific Development Center of Colorado
Culturally responsive nonpartisan voter education, citizenship classes, supportive services and events for community members.
Colorado Asian Culture and Education Network
Education on voting processes for Colorado's Asian American and Pacific Islander (AAPI) communities through language and cultural supports, helping AAPIs better understand national and statewide voting systems.
Colorado Civic Engagement Roundtable
Resources for nonprofit partners to conduct intentional voter outreach to their constituents and members.
Colorado Immigrant Rights Coalition
Nonpartisan voter engagement program focused on BIPOC voters in Adams, Arapahoe and Jefferson counties.
Colorado Organization for Latina Opportunity and Reproductive Rights
Civic engagement outreach in Adams, Denver and Jefferson counties, promoting the involvement of Latinx immigrant communities in the political process.
Guidance and training for direct service nonprofits to offer nonpartisan voter engagement to their constituents, prioritizing nonprofits serving low-income communities and communities of color.
Coordination with community allies to survey Globeville and Elyria-Swansea voters and increase their participation in the general election.
Outreach to and engagement of Latina voters through innovative and culturally relevant, digital messaging campaigns.
League of Women Voters of Colorado
Provision of reliable, bilingual, nonpartisan voter information in a variety of media.
Metropolitan State University of Denver Foundation
Voter engagement of Auraria campus students and their communities during the 2022 election cycle.
Outreach to young voters through a variety of methods, including multi-issue organizing, voter registration and leadership development.
Voter education and registration of LGBTQ+ community members in Broomfield, Adams and Boulder counties with concerted outreach to LGBTQ+ people of color.
Outreach to ensure that formerly incarcerated citizens are registered to vote, educated about the process and encouraged to participate.
Education activities for the community, particularly people of color, about the importance of participating in the voting process as a civil rights and social justice activity.
Increasing voter participation and engagement among young adults and on college campuses through the organization's Youth Advocates Program.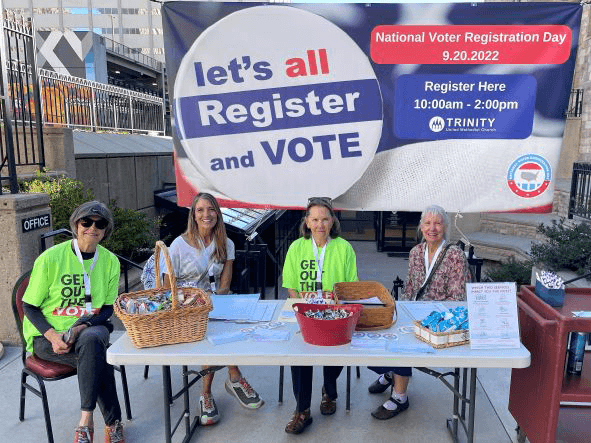 Photo courtesy: Community Resource Center/Trinity United Methodist Church
---
About Rose Community Foundation  
Rose Community Foundation strives to advance inclusive, engaged and equitable Greater Denver communities through values-driven philanthropy. The Foundation envisions a thriving region strengthened by its diversity and generosity, and it utilizes the varied tools at its disposal – grantmaking, advocacy and philanthropic services – to advance this aspiration. Since its founding in 1995, the Foundation has granted more than $355 million to over 2,000 organizations and initiatives, including $60 million in facilitated grantmaking from donor-advised funds. The Foundation also supports 75 nonprofit organizations in creating and growing endowments to sustain their vital work into the future, currently stewarding $61 million in endowed assets. The Foundation has $366 million in total assets under management, with annual grantmaking of over $20 million.