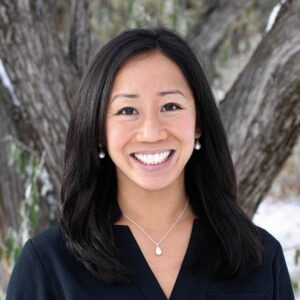 Denver, CO – Rose Community Foundation presented its second-annual Sheila Bugdanowitz Leadership Development Award to Christine DeLeon, CEO and founder of Moonshot edVentures, at the Foundation's Annual Breakfast on April 17, 2019. The award is named in memory of Sheila Bugdanowitz, who led Rose Community Foundation for 18 years before she passed away in December 2016.
Moonshot edVentures is an organization that surfaces and supports a diverse pipeline of leaders to design and launch the schools of tomorrow within Metro Denver. DeLeon launched the organization in 2015 to provide dynamic Moonshot Fellows the tools to succeed in leading and creating community-centered schools.
"Christine is working to ensure that the diversity of our school leaders matches that of our students," said Trinidad Rodriguez, Rose Community Foundation trustee and chair of the Foundation's education committee. "The impressive participants in Christine's Moonshot edVentures cohorts underscore for us the critical role that great leaders play in school success."
The award – funded by donations made to Rose Community Foundation in Bugdanowitz's memory – aims to recognize, empower and support emerging leaders in the Greater Denver nonprofit community who are doing work that aligns with the Foundation's mission and priorities. Each year, the Foundation presents the Sheila Bugdanowitz Leadership Development Award to an emerging nonprofit leader who demonstrates talent and potential for growth. The award funds professional development opportunities for the honoree through local or national programs, coaching and/or mentoring.
"Sheila always said that her job was fun and that it was a privilege, and I feel the same way. Reflecting on Sheila's leadership is also an incredible opportunity to encourage each of us to ask ourselves, what could happen if each of us saw it as a privilege to give a little nudge, support, encouragement, and access to someone who can build something great for their community?" said DeLeon. "I am grateful to Sheila for reminding me of the incredible privilege we have to do something amazing in the community with one another."
DeLeon began her career as a management consultant at the Boston Consulting Group and later became the Los Angeles lead for The Eli and Edythe Broad Foundation's leadership development portfolio. DeLeon spearheaded efforts for districts, charter networks and nonprofits to develop and support innovative new school models in conjunction with Next Generation Learning Challenges and Education Cities. She also led the recruitment of the second cohort of Summit Basecamp schools, growing the program from 19 schools to more than 130 schools. In 2010, she founded the Analyst Fellowship for Education Pioneers, which has grown from 10 to more than 100 fellows annually in fewer than five years. In 2015, DeLeon combined her experiences of leadership development, personalized learning, and entrepreneurship to create Moonshot edVentures.
"Christine founded Moonshot edVentures with the vision of cultivating school leaders who share and empathize with the experiences of the students and communities they aim to serve," said Lindy Eichenbaum Lent, president and CEO of Rose Community Foundation. "We are proud to recognize her for her work and support her inspiring vision."