Generation Now Circle is a unique giving circle that brings together a diverse group of talented and engaged individuals ages 25 – 40 to get involved in collaborative philanthropy. During the program, members will: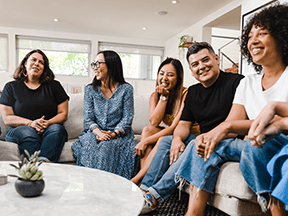 Grant approximately $50,000 to nonprofit organizations in the Greater Denver region. Grant dollars are provided by Rose Community Foundation, and additional individual contributions are matched dollar-for-dollar.

 

Explore emerging community issues and innovative local solutions. 

 

Learn about and put into practice Rose Community Foundation's approach to grantmaking which encourages trust and relationship-building between funder and grantee organizations. 

 

Identify values with which to build meaningful relationships with a group of diverse peers.

 

Become a part of Rose Community Foundation's network of donors and partners.
2023 Grant Recipients
The 2023 cohort of Generation Now Circle chose to fund local nonprofit organizations that support families and individuals who are at risk or eviction or losing their housing. These grants will support both direct services and advocacy work that addresses the spectrum of housing assistance.
Grantmaking Funds
Rose Community Foundation seeds the group's grantmaking with $30,000 and provides a dollar-for-dollar match for members' combined contributions, up to $10,000. All members are asked to make a personally meaningful donation. There is no recommended contribution amount and all amounts donated are confidential.
Member Eligibility
All applicants should reside within the Greater Denver community – Adams, Arapahoe, Boulder, Broomfield, Denver, Douglas and Jefferson counties – and be between the ages of 25 and 40 years old. You do not need to be of a certain income level, wealth status or earning potential. We welcome members who can bring a diversity of voices, life experiences and perspectives to the program. Contact us to learn more.