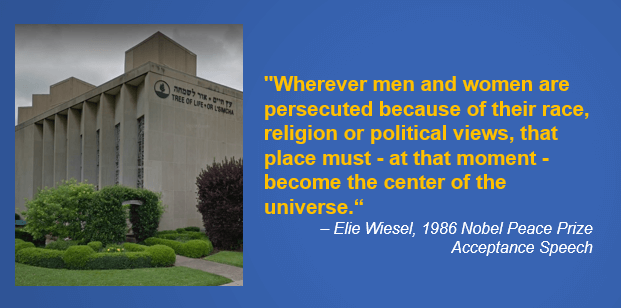 Since this past Saturday morning, October 27, 2018, the hearts, minds and prayers of Rose Community Foundation staff and trustees have been with the Tree of Life Synagogue, the Squirrel Hill neighborhood, the city of Pittsburgh and all who are united in grief and outrage by this vicious hate crime.
Twenty-four hours after the carnage at Tree of Life Synagogue in Pittsburgh, my husband and I – like countless families around our community and country – sent our daughter to Religious School at our synagogue.
Was she nervous? Yes. Was I anxious? Yes. But I'd be lying if I said today was the first time.
The risks, the fear, the uncertainty, the emotions – these are nothing new for Jewish families.
They are the same feelings that families of all backgrounds experience when sending their kids to school in the era of school shootings. They are the same feelings when a family sends their African-American, undocumented, or LGBTQ child out into the world – not knowing what forces of hatred or bias-driven danger they will encounter.
Hate crimes and acts of terror make our worst fears real, sending shockwaves far beyond the geography directly targeted. That is their intention. But we can't let hate win.
So, fighting back tears, we collectively sent our kids to Religious School yesterday and to their preschools and day schools today. We gathered as united, interfaith communities in Denver and Boulder synagogues last night. We vote for leaders capable of healing the divides and inspiring unity. We donate to Our Victims Terror Fund at the Jewish Federation of Greater Pittsburgh to help those directly affected by this latest round of unspeakable violence. And as we have said too many times in our painful history – we never forget.
In 2017, Rose Community Foundation launched its Community Action Fund to support organizations working with immigrants and refugees, and communities vulnerable to discrimination and hate crimes. The Pittsburgh tragedy not only combined those issues and brought them to the forefront, but it reminds us how important it is to combat hate and promote inclusion in our own community.
May the memories of the Tree of Life victims be for a blessing. And in their memory, may we find ways to reduce what divides us and find hope and healing in all that unites us…

Lindy Eichenbaum Lent
President and CEO