Rose Community Foundation has endorsed Proposition CC, which will be on Colorado's November 2019 ballot. Prop CC's passage will allow the state to address funding gaps in education and transportation, without raising any taxes.
Colorado has one of the fastest growing economies in the nation. In 2019, for the third year in a row, Colorado's economy ranked first among U.S. states. Yet, in critical spending areas such as K-12 education, higher education and transportation, Colorado invests far less than the national average. Under current Colorado law, a "revenue cap" arbitrarily limits public investment, regardless of how much revenue the state generates in a given year. As a result, Colorado has been unable to make necessary investments even in years of strong economic growth.
Proposition CC aims to mitigate these funding shortfalls by eliminating the state's revenue cap, which would free up an additional $310 million in 2020 and $342 million in 2021, according to Colorado Legislative Council Staff estimates. Those dollars would make an immediate positive impact in the areas of K-12 education, transportation and higher education – all without increasing taxes beyond what Coloradans pay today.
Rose Community Foundation has been grantmaking in K-12 education for its entire 24-year history, investing tens of millions of dollars in innovative school designs, effective teachers and comprehensive policies that support equity and systemic change. A proposal to harness more resources for education statewide – without raising taxes, in this case – is exactly the kind of leverage opportunity the Foundation seeks.
"Grantmaking from all of Colorado's foundations combined cannot make up the gaps in funding for K-12 education, higher education or transportation that our state faces," explains President and CEO Lindy Eichenbaum Lent. "As a foundation, sometimes our role is to take risks and invest in proposed solutions that are not guaranteed to succeed but that could pay long-term dividends for Colorado communities."
Colorado spends $2,703 less per student than the national average and pays teachers $9,029 less than their peers across the country. As of 2019, 111 out of 178 school districts in Colorado operate on four-day weeks, effectively imposing an invisible tax on parents and families who must adjust work and child-care schedules as a result. Though Proposition CC is not a silver bullet to solve all of the state's public education challenges, it represents a meaningful investment in Colorado's students and teachers.
Similarly, Proposition CC's passage would help fill funding voids in higher-education and transportation. Revenue generated by Proposition CC can make community college and trade school far more affordable, giving students the skills they need to thrive in Colorado's booming economy. It also would fund investment in Colorado's roads, bridges and transit, another area where the state has major funding deficiencies; Colorado has over 500 bridges that are structurally deficient and 20 percent of public roads are rated "poor." Rose Community Foundation invests in transportation and mobility issues, particularly within its Aging program area, and strongly supports Proposition CC's commitment to better fund transportation and infrastructure.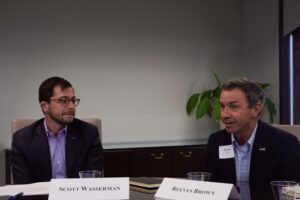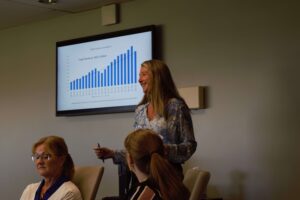 In September, Rose Community Foundation convened some of Colorado's preeminent fiscal policy experts for a dialogue about Proposition CC. The panel included Scott Wasserman from the Bell Policy Center, Reeves Brown from Building a Better Colorado, Lisa Weil from Great Education Colorado and Cary Kennedy, the governor's senior advisor for fiscal policy and former state treasurer. Janet Lopez, Rose Community Foundation's senior program officer for education, moderated the panel discussion.
Wasserman explained that public spending is not keeping up with the state's rapid growth. According to Wasserman, Colorado is spending less in 2019 than it did in 2000, when adjusted for population and inflation. The status quo is unsustainable, added Brown: "Coloradans either need to change our expectation of what our quality of life will be or change these policies."
Weil, whose organization is powering the I Am a Public Education Voter outreach effort, alerted attendees that Colorado's education funding rates are lower than Mississippi's and Alabama's, two states that have experienced far less economic growth. Nevertheless, she expressed confidence in the state's voters to address the fiscal shortfall head-on by supporting Proposition CC. "Coloradans love Colorado," said Weil. "Voters take great pride in our quality of life."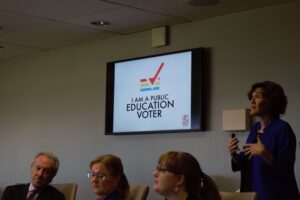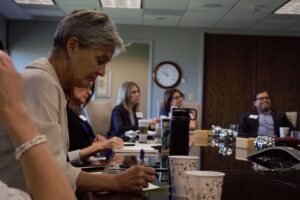 Election Day is fast approaching. Ballots will be delivered to voters the week of October 15th and November 5th is the final day to vote. To check or update your voter registration, click here.
To financially support the Yes on CC campaign, click here (but please note that DAF funds cannot be used for C4 campaign activities). To volunteer or get involved with Great Education Colorado's campaign, click here.
To learn more about Rose Community Foundation's support of Proposition CC, you can reach out to Janet Lopez, senior program officer for education, at jlopez@rcfdenver.org.