Rose Community Foundation is excited to announce open funding opportunities and preview additional grant cycles planned for 2023. While each funding opportunity is designed to address different community needs, all are guided by the Foundation's mission of advancing inclusive, engaged and equitable Greater Denver communities through values-driven philanthropy.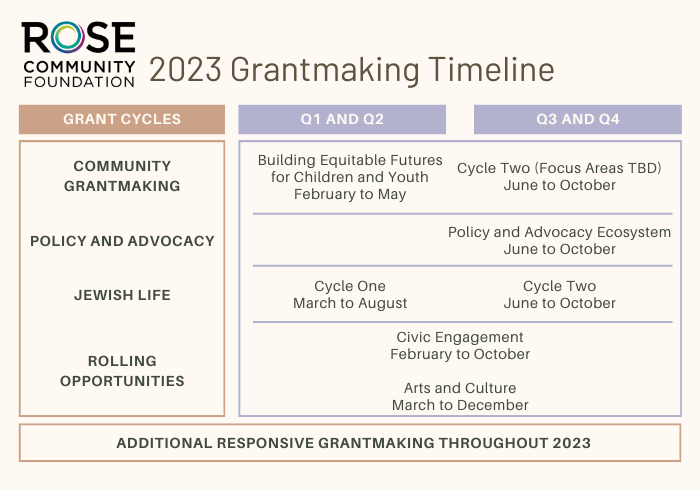 Building Equitable Futures for Children and Youth
Supporting organizations that provide youth- and child-focused services, center youth and family voice, and address systemic inequities to increase educational achievement and bolster post-secondary work options for youth furthest from opportunity. Applications are due by March 1 at 5 p.m. Learn more.
Civic Engagement Rolling Opportunity
Supporting efforts aimed at elevating the voices and priorities of those furthest from opportunity through inclusive civic engagement activities, including voter participation and engagement, community organizing, leadership development and civic forums. This is a rolling application, to be reviewed as applications are received through October 13 or when all funding is distributed, whichever comes first. Learn more.
Newcomers Fund
Since December 2022, more than 4,300 people have arrived in Greater Denver after fleeing unrest in South and Central America. Colorado organizations serving newcomers from the Southern U.S. border are encouraged to apply for this open funding opportunity.  Grant decisions will be made on a rolling schedule twice a month. Learn more.
For the following grant opportunities, more information will be provided closer to the start of each cycle.
Jewish Life
To support organizations and programs that are reflective of Greater Denver's Jewish communities and offer meaningful and relevant opportunities to engage in Jewish life, while welcoming diverse individuals, families and practices.  Two open requests for proposals launching in March and June, with grants made by August and October, respectively.
Policy and Advocacy Ecosystem
To support organizations leveraging policy and advocacy efforts to advance inclusive, engaged and equitable Greater Denver communities. Open request for proposals launching in June with grants made by October.
Arts and Culture
Rolling application to be reviewed as applications are received, March through November.
Community Grantmaking Cycle Two (Focus Areas TBD)
Open request for proposals launching in June with grants made by October.
Additional Off-Cycle Funding
The Foundation will also consider needs and opportunities outside of these cycles, including but not limited to funding for ballot-measure campaigns, emergency crisis-response efforts, and emergent issues and opportunities. The Foundation's collaborative giving circles will also conduct grantmaking throughout the year.
For questions about funding opportunities, please contact our team:
Christiano Sosa and Maria Torres | Community Grantmaking
Sarah Kurz and Ray Barrie-Kivel | Policy and Advocacy
Vanessa Bernier | Jewish Life