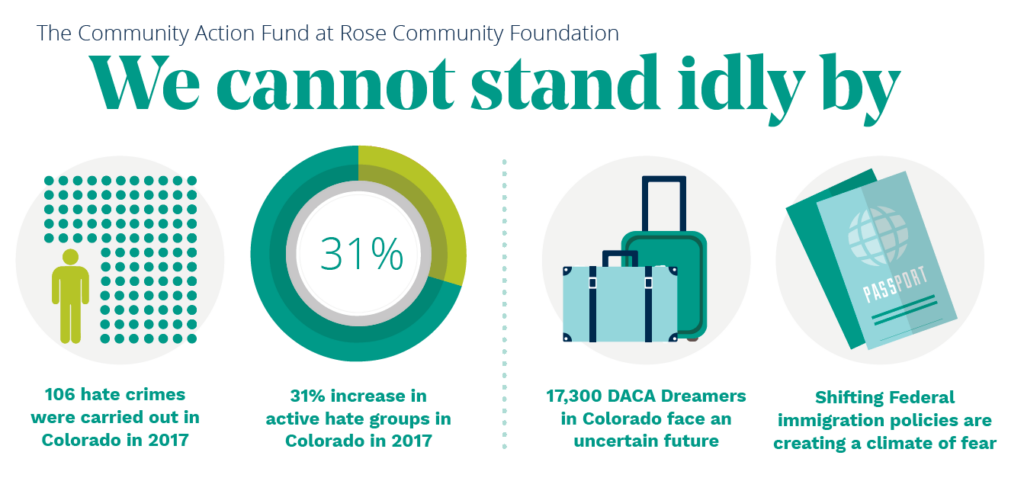 This is a moment for action
Rooted in our values of social justice and inclusion, Rose Community Foundation is standing up for our immigrant and refugee neighbors and for communities vulnerable to hate and discrimination. Together we can ensure that Denver is a safe and welcoming community for all, even in these challenging times.
Will you stand with us?
In 2018, joined by 60 donors, the Foundation invested nearly $1 million into this initiative to support local organizations on the front lines of this critical work. In 2019, your contributions to the Community Action Fund will help in four key ways:
ANTI-HATE AND DISCRIMINATION: Preventing or responding to hate incidents and fostering community dialogue and healing
COMMUNITY INTEGRATION AND SUPPORT: Services and programming for immigrant, refugee, and asylum-seeking populations in a shifting landscape
LEGAL SERVICES: Grants to nonprofits providing legal services for children and families facing immigration and detention hearings
COALITIONS: Support for nonprofit coalitions working to strengthen community, combat hate and mobilize volunteers
The Community Action Fund is led by Foundation staff and trustees who put their knowledge and relationships to work to stay abreast of evolving needs and determine how philanthropic dollars can be deployed to help.