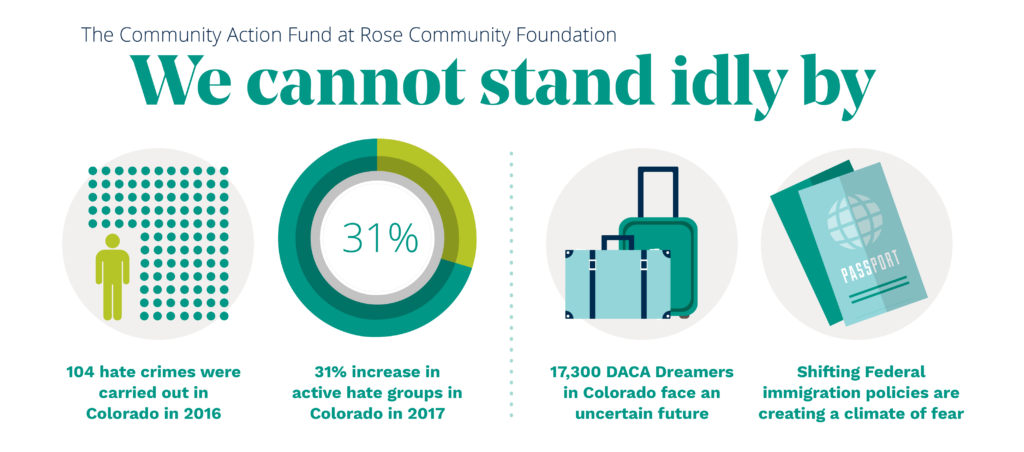 This is a moment for action
Rooted in our values of social justice and inclusion, Rose Community Foundation is standing up for our immigrant and refugee neighbors and for communities vulnerable to hate and discrimination.
Will you stand with us?
Together we can ensure that Denver is a safe and welcoming community for all, even in these challenging times. In 2018, contributions to the Community Action Fund will help in four key ways:
1. HELP THE HELPERS: Grants to help nonprofits working with immigrant and refugee families and other vulnerable to hate meet increased demand
2. COMMUNITY FORUMS: Educational sessions raising awareness and providing key information on the rapidly changing landscape
3. LEGAL SERVICES: Grants to nonprofits providing legal services for children and families facing immigration and detention hearings
4. COALITIONS: Support for nonprofit coalitions working to strengthen community, combat hate and mobilize volunteers.
The Community Action Fund is actively led by Foundation staff and trustees who put their knowledge and relationships to work every day to stay abreast of evolving needs and determine how philanthropic dollars can be deployed to help.
Donate to Community Action Work
Donors to the Community Action Fund will receive:
• Update emails to keep you informed of progress, developments and opportunities for involvement
• Invitations to educational forums in 2018
• Recognition in our 2018 annual report
History of the Community Action Fund
Rose Community Foundation created the Community Action Fund in 2017. Hate crimes in our community were increasing at an alarming rate, immigrant and refugee families were experiencing heightened fears and concerns, and nonprofit organizations serving affected populations were feeling beleaguered.
"As a community foundation grounded in values of philanthropy, nondiscrimination and justice, we felt called to do something," shares Elsa Holguin, Rose Community Foundation senior program officer for Child and Family Development.
In addition to continuing its ongoing grantmaking, the Foundation undertook several community action efforts in 2017, including:
Small, unsolicited, one-time, rapid response grants to support 75 organizations being called upon to do more.
Funding for two new coalitions: Mountain States Against Hate Coalition, and Colorado Immigrants Rights Coalition Initiative: Colorado Rises.
Two nonpartisan educational forums and trainings to help community members and organizations come together to learn: The Facts on Immigrants and Refugees in May 2017 and Working with Organizations and Institutions to Keep Students and Families Safe in September 2017.
Scott Levin, regional director for the Anti-Defamation League (ADL) in Denver, was among some 500 people who attended one the Foundation's two educational forums titled, "The Facts on Immigrants and Refugees" in May. The forums were co-hosted with the Colorado Association of Funders, the Colorado Nonprofit Association and the Community Resource Center. "At the time there was a lot of anxiety in the community. The ability to come together as a community of people interested in this issue and to hear from national experts was really comforting," he shares.
"When Rose Community Foundation stands up and says this is important and can bring together the right people, it is servant leadership at its best," says ADL's Levin. "There are no easy answers these days, but the Foundation has helped to provide a path for all of us to move forward."