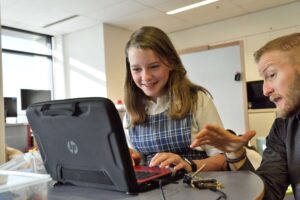 About
The education technology mini-grant program was designed to enhance and expand the utility of computers or other existing classroom technology for Colorado's PreK-12 teachers. The program was started by the Jared Polis Foundation and, with the support of the Governor's Inauguration funds, is now being housed at Rose Community Foundation. The Jared Polis Foundation went into hiatus on Jan. 1, 2019 as Jared Polis began his service as Governor of Colorado.
Rose Community Foundation will continue to support the Tech Mini Grant Program, which has deployed hundreds of grants to teachers across the state to address their technology needs. Grants up to $1,500 may be requested for hardware, such as Chromebooks, laptops, tablets, e-readers, robotics equipment, 3D printers, digital or video cameras, interactive response systems, or to purchase software, technology curriculum, or pay technology conference registration fees.
Learn more: Mini-Grant Funding Available to Support Technology in the Classroom
2019 Grantmaking
In 2019, Rose Community Foundation awarded 30 mini grants ranging from $650 to $1,500. Grants were made to 21 different public schools, three preschools and three non-profit organizations across 15 school districts.
Grants supported the purchases of iPads, laptops, printers, interactive white boards, digital cameras, programmable drones, robotics kits, blended learning music software and more.