Upcoming Events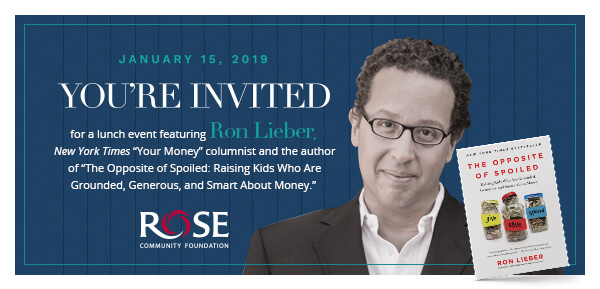 Ron Lieber Lunch Event – SOLD OUT
If you have already registered, we are thrilled to see you tomorrow for the sold-out lunch with Ron Lieber, New York Times "Your Money" columnist and author of "The Opposite of Spoiled: Raising Kids Who Are Grounded, Generous, and Smart About Money." We wanted to remind you of a few details ahead of tomorrow, including the note below about parking.
Time & Location
January 15, 2019
11:30 A.M. – 1:30 PM
The Cable Center on D.U.'s campus
2000 Buchtel Boulevard
Denver, CO 80210
Parking
Surface parking in the lot directly in front of the Cable Center will be available to the first 60 cars. Once full, the parking attendant will direct cars to Lot C, which you enter off High Street one half-block south of Buchtel. Tell the parking attendant you are with the Rose Community Foundation event and you will be given a pass to display in your car. From there walk up the northeast stairs directly across from where you entered the lot and you will be just steps from the Cable Center.
Please note, there is a Light Rail Stop that is a two minute walk called the University of Denver Station (serving the E F and H lines).
We can't wait to see you. For questions contact Susan Lanzer at 303.398.7421 or slanzer@rcfdenver.org.
Past Events
Will You Count? Why the 2020 Census Matters
Presented by: Rose Community Foundation, in partnership with Colorado Association of Funders, Colorado Nonprofit Association, Community Resource Center, Denver Metro Chamber of Commerce and Together We Count.
Event Date: October 23, 2018
Materials presented at the forum are available here
The morning session was live streamed on Rose Community Foundation's Facebook page.
Working with Organizations and Institutions
to Keep Students and Families Safe
Hosted by: Rose Community Foundation
Event Date: September 20, 2017
The Facts on Immigration
Hosted by: Rose Community Foundation
Event Date: May 24, 2017