Upcoming Events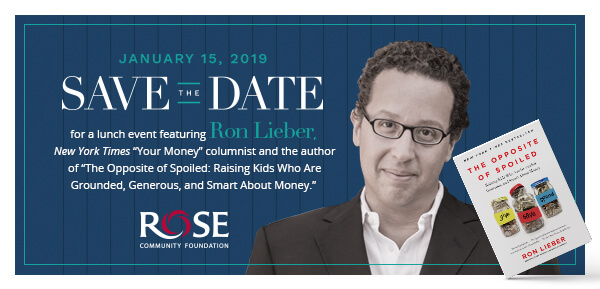 Ron Lieber Lunch Event
We hope that you and a guest can join us for an event with Ron Lieber, New York Times "Your Money" columnist and author of "The Opposite of Spoiled: Raising Kids Who Are Grounded, Generous, and Smart About Money."
January 15, 2019
11:30 A.M. – 1:30 PM
The Cable Center
2000 Buchtel Boulevard
Denver, CO 80210
Tick on sale now for $35 each or $50 for you and a guest.
Past Events
Will You Count? Why the 2020 Census Matters
Presented by: Rose Community Foundation, in partnership with Colorado Association of Funders, Colorado Nonprofit Association, Community Resource Center, Denver Metro Chamber of Commerce and Together We Count.
Event Date: October 23, 2018
Materials presented at the forum are available here
The morning session was live streamed on Rose Community Foundation's Facebook page.
Working with Organizations and Institutions
to Keep Students and Families Safe
Hosted by: Rose Community Foundation
Event Date: September 20, 2017
The Facts on Immigration
Hosted by: Rose Community Foundation
Event Date: May 24, 2017