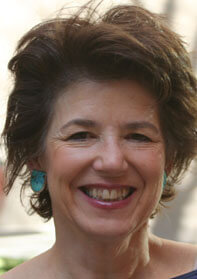 Beverly Buck is a trustee of The Aloha Foundation, a family foundation focusing on early childhood education and development in Colorado, New York and Hawai'i. She is a donor, aligned funder and a longtime friend of Rose Community Foundation. She is currently a senior researcher at the Buechner Institute for Governance at the University of Colorado School of Public Affairs.
How did you get involved with Rose Community Foundation?
My relationship with Rose Community Foundation started first as a grantee when I was with the Colorado Children's Campaign and then at the School of Public Affairs at the University of Colorado Denver. I then served in leadership roles for both Rose Women's Organization and the Jewish Women's Fund of Colorado, which are donor-advised initiatives at the Foundation. I found Rose Community Foundation's work in early childhood development, education and Jewish life to be creatively innovative. They were willing to work in a variety of ways to be transformational and shape public policy at both state and local levels, as well as the program level. By the time The Aloha Foundation began funding in Colorado, Rose Community Foundation program officers, especially Lisa Farber Miller and Elsa Holguín, were friends and trusted mentors. A close partnership with Rose Community Foundation was inevitable.
Why is early childhood education so important to you?
A child's foundation in life begins with parents who can be their children's first teachers and through positive, healthy early child development. My mother created The Aloha Foundation partly out of her frustration as a family court judge having to watch an endless parade of children who did not get that start. Because Aloha is a "nano" foundation, we look for opportunities that will have impact beyond our time, talent and treasure. Early childhood development and education are obvious investments for me personally and for The Aloha Foundation.
As a funder in early childhood education, what sorts of trends do you see?
We cannot be complacent and rest on our laurels. For better or worse, the importance of quality early childhood care and education timed to utilize the incredible brain development experienced by young children is a story we must keep telling. That's why we will continue to work with Rose Community Foundation to pursue better ECE opportunities for every child.
Rose Community Foundation works with individuals, families, nonprofit organizations and corporations to inform their giving and maximize their philanthropic impact. Learn more about giving and planning here.